Encaustic Art


Here are some words describing "Painting With Wax":



From Michael Bossom:



Encaustic Art enables anyone to experience creative art easily

The wax colours can be re-activated at any future time - change is ALWAYS an option.

Unfreezable paint allows lots of exploration and instantly finished results - wax cools in seconds, so no need to watch the paint dry!

There is no age barrier and no skill requirement for beginning encaustic art.

Use good products - the non-absorbent card and powerful wax block colours are proved to work - poor choice of materials leads to frustration.

Don't try to preconceive when you begin, just choose a "direction" or "approach" - respond to what happens, not what you thought would happen!

Float the iron on the wax, don't squash it to death - a light gentle touch will produce good coloured effects best.

Don't try to use the iron like a brush, poking at the wax with the point - it is an iron, so be bold and light-handed, use it flat, then later on edge.

The stylus is designed for graphical input, like a pen-brush that allows drawing of lines & shapes and blending for shading too.

Seek out information, there is much online, also books and DVDs. Understand how diverse and fascinating encaustic art is for so many people. (http://www.encaustic.com)




More from others:



Keep it simple - just go with the flow!



My Encaustic Art


Well, I haven't done much, yet, towards this, but I

have

made a start! This has mostly been thanks to the kindness of Jinny and Pammie at the Encaustic Art Forum.




This was my first ever attempt, using a travel iron rather than the proper encaustic iron. I was actually quite pleased, though I know it's far from the kind of thing that can be produced with a little practice.






This was my second attempt, using darker colours and different techniques - just playing around really! It

does

show how different the results can be according to colours and techniques used.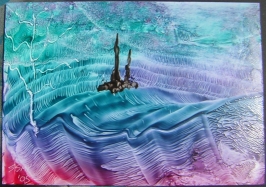 This was my third attempt, done at Jenny's behest for her friend Sonia, who is tempted to have a go at Encaustic Art, too.



I'm still experimenting, and trying to get the heat setting just right. The first two, I had the iron too hot, while the third cooled rather too much! This shouldn't be an issue with the proper iron, but I'm immensely grateful to my friends for being given a chance to get a start much earlier than I expected.

Since the above three I've been busy playing with my waxes and have come up with the following: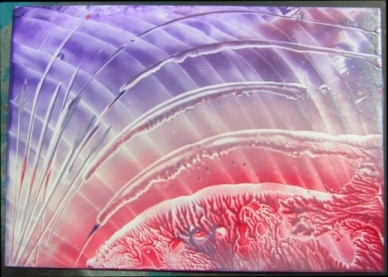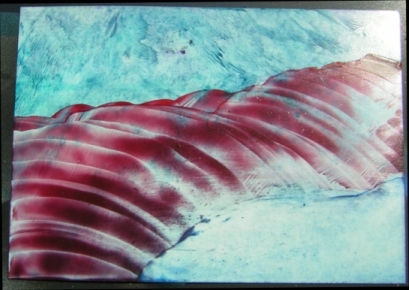 Ripples & Rushes
Red Dunes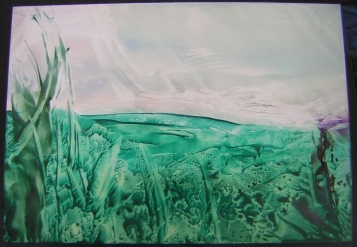 Alien Landscape
My 1st Landscape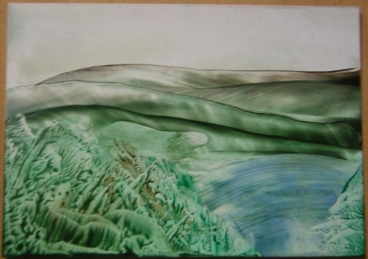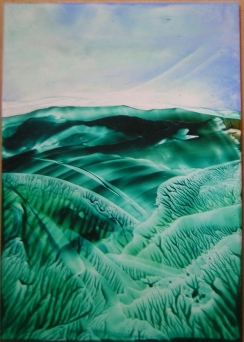 My 2nd Landscape
My 3rd Landscape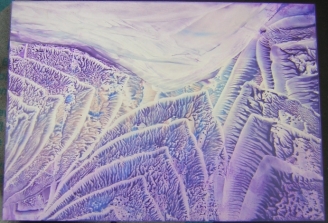 Alien Valley



For our 25th (Silver) Wedding Anniversary, I made this card for Jenny, which incorporates an encaustic piece I did specially for it: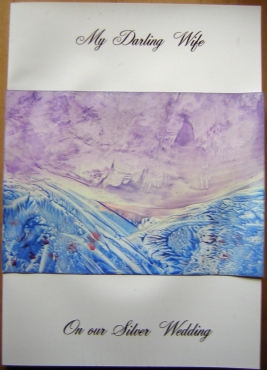 Some great Encaustic Art Links: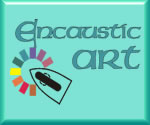 Yahoo Encaustic Arts Group
Last Updated: 18th. December, 2005
Copyright Steve K. Smy, 2005